See on Scoop.it – Food Technologies: Preparation & Safety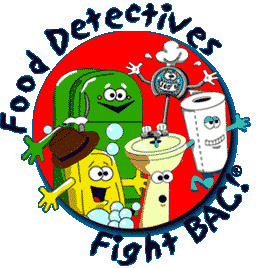 The Food Detectives Fight BAC! series gives kids a fun way to learn about food-borne illnesses. While listening to music and helping the Food Detectives solve cases, kids will learn important concepts about hygiene, food preparation, and bacteria.
Ornella Whelan's insight:
The Food Detectives Fight BAC! game has been designed for 8-12 year olds. The interactive resource promotes: the importance of washing hands and surfaces; practices to avoid cross-contamination; and storing and cooking foods at correct temperatures.
The resource further supports student learning with links to additional student and teaching texts and informative websites. Furthermore, there are hygiene and food preparation learning activities:
Soapy Solutions: experimenting with different hand washing strategies to learn the most effective way to kill bacteria.
Be a Good Egg: cooking eggs for different lengths of time to investigate the effect heat has on eggs.
Cooling Counts: boiling water to learn how to use a thermometer, as well as information about the 'danger zone.'
The experiments would suitably address the Year 5 and 6 Australian Curriculum: Technologies content description of investigating the role of food preparation in maintaining good health and the importance of food safety and hygiene (ACARA, 2014).
To further enhance the value of this resource, students could identify a real life context that relates to one of the experiments and design a process to ensure that food and hygiene guidelines are followed.
Reference:
Australian Curriculum, Assessment and Reporting Authority (ACARA). (2014). Australian Curriculum: Technologies. Retrieved May 30, 2014 from http://www.australiancurriculum.edu.au/technologies/design-and-technologies/Curriculum/F-10?y=5-6&s=DEPPS&s=DEKU&layout=1
See on www.fooddetectives.com