See on Scoop.it – Food Technologies: Preparation & Safety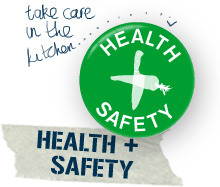 This collection of health & safety resources focuses on the development of student knowledge and understanding about food safety practices.
Ornella Whelan's insight:
The Year 5 & 6 Band Description of the Design & Technologies strand of the Australian Curriculum: Technologies stipulates that students be identifying, planning and maintaining safety standards and practices when making design solutions (ACARA, 2014). This collection of resources developed by Jamie Oliver (2010) develops student knowledge and understanding of food safety. Together the three resources introduce the current practices for food safety and explain some of the reasoning behind these practices. The statistical data in these resources is relevant to UK learners, however, annotations have been added to the resources to adapt the content for Australian students.
References:
Australian Curriculum, Assessment and Reporting Authority. (2014). Australian Curriculum: Technologies. Retrieved March 6, 2014 from
http://www.australiancurriculum.edu.au/technologies/design-and-technologies/Curriculum/F-10
Oliver, J. (2010). Health and Safety: Take care in the kitchen. Retrieved March 6, 2014 from www.jamieshomecookingskills.com
See on www.diigo.com