See on Scoop.it – Food Technologies: Preparation & Safety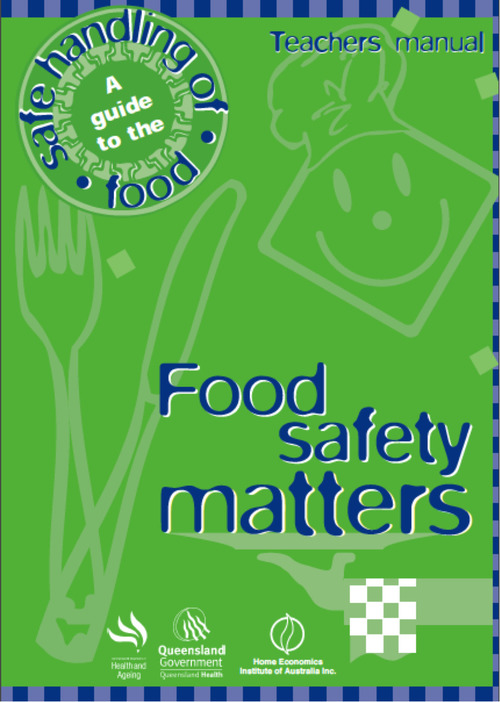 The teacher's manual includes an introductory unit and two design challenges developed to enable students to demonstrate outcomes from the 'Health and Physical Education' and 'Technology' key learning areas.
Ornella Whelan's insight:
Developed by Queensland Health, in collaboration with the Home Economics Institute of Australia and the Commonwealth Department of Health and Ageing, this six part resource promotes five key messages relating to food safety: keep hands and nails clean; keep the kitchen clean; handle food safely; cook high-risk foods thoroughly; and keep hot foods hot and cold foods cold.
Part A: Provides teachers with example teaching experiences, a list of recommended resources and homework and extension ideas.
Part B: Provides teachers with an extensive range of student worksheets.
Part C: Includes a variety of black line masters for projectors.
Part D: Informs teachers of current information and research in the area of food safety.
Part E: Explains the Health Promoting Schools (HPS) approach, which can be used to expand the concept of food safety at a whole school level.
Part F: Provides references and links to further food safety related publications, videos and websites.
Although this resource has been specifically developed for secondary students, many of the ideas within the resource are suitable for Year 5 and 6 classrooms.
The Food Safety Checklist Design Challenge challenges students to design, make and use a food safety checklist to promote good practice related to hygiene, food storage, food preparation and cooking in the home (Queensland Health, n.d.). This learning experience would address both the ACTDEK022 (investigate the role of food preparation in maintaining good health and the importance of food safety and hygiene) and ACTDEP024 (critique needs or opportunities for designing, and investigate materials, components, tools, equipment and processes to achieve intended design solutions) content descriptors of the Australian Curriculum: Technology (2014).
I believe the design challenges within this resource support the Australian Curriculum design and technologies rationale, which supposes that students use design thinking and technologies to generate and produce designed solutions for authentic needs (ACARA, 2014).
References:
Australian Curriculum, Assessment and Reporting Authority (ACARA). (2014). Australian Curriculum: Technologies. Retrieved May 30, 2014 from http://www.australiancurriculum.edu.au/technologies/design-and-technologies/Curriculum/F-10?y=5-6&s=DEPPS&s=DEKU&layout=1
Queensland Health (n.d.). Food safety matters. Retrieved from
http://www.health.qld.gov.au/foodsafetymatters/documents/21864g.pdf
See on www.health.qld.gov.au